Alaska '98
Last Update: 8/31/1998 at 7:20pm ADT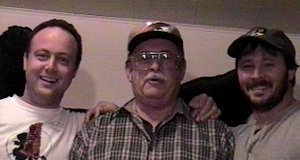 Larry, Dad, Me (Jimmy)
Surpise! I am actually updating the webpage like I planned. Even I am surprised about that. The trip has been great, but the luck has not been as good as last year. My dad and I drove to Homer as planned, and due to the heavy down pour of rain, he insisted that we stay in a motel. I guess I didn't put up too much of a fight as I really don't like setting up a tent in the rain. Anyway, we stayed last Sunday night in Homer and listened in disappointment as we heard the weather forecast to include high winds and heavy rains. We decided to get up as planned and meet at the boat and see what the captain said.
We arrived at the boat on time (another surpise) and it was raining, and a little windy. We asked if the boat was going out, and they looked at us like we were strange for asking. "Of course we're going out", the captain replied. Although I had made arrangements to go on the same boat as last year, this was a different captain and also a different deckhand. We took a seat inside and waited for the departure. The captain came down before we left and told everyone on the boat that we were going out to see what it was like and that the worst case would be just a boat ride.
We started out into Kachemak Bay and headed toward the Barren Islands. We knew that we would not be making it all the way to the Barren Islands as they are about three hours away on a good day. Well, the boat was rockin and riding big waves all the way out. Trying to walk around in the boat was nearly impossible, but since we had both taken some dramamine (to prevent getting seasick) we enjoyed the excitement. We rode for an hour and a half and finally anchored at Dangerous Cape Reef. That is about half-way to the Barren Islands. When the captain cut the engine, we could hear his radio and all the other boats were turning around and going back to Homer. We stayed out there and fished, but neither of us got even a bite. The deckhand didn't even bait our rigs - we had to. Then, I think the deckhand was the first to have his line in the water, and he caught one of only two fish on the boat.
Soon, we started taking waves over the bow, and the captain had everyone pull their lines up. We ended up going to Seldovia (a small town across Kachemak Bay from Homer) and docking for about an hour. The skies cleared, but the winds picked up to 30 knots and the seas got even rougher. We left Seldovia and slowly made our way back to Homer. They refunded half of the cost of the trip and of course we left with NO halbut - damn!
We drove to Cooper Landing and had dinner with Ken & Sandy Bethe (the bush pilot that would fly us in the next day). We stayed at Ken's that night and then he flew us into the West Swan Lake cabin on Tuesday afternoon. It was still rainy, but not too bad to fly. What views we had were fantastic and we arrived on the float plane safely.
Since, I am starting to babble and the stay in the cabin is a whole other story, I will tell about it when I have my next chance. Right now, I am at Larry's house in Anchorage finishing up the updates and packing my things for my backpacking trip.
Tomorrow, I will be hitch-hiking to Hope, to start my 40 mile backpacking trip on the Resurrection Trail. It will be a solo trip, since I can't seem to talk Larry into going with me. My dad will drive to the bus station and then take the train to Denali National Park and spend two nights there and tour the park via tour bus. I did that last year, so I would rather go backpacking. Anyway, I am sure I will have alot more stories of my trip when I return. There are alot of bears and moose where I am going, and some caribou. I hope to get some good pictures of all of them, but we will see. I plan to come out from my trip (assuming someone will pick me up after four days without a shower) on Friday and return to Anchorage. I will try to post one more updated before I return home on Monday.
Areas that were just updated:
Overview (this), Pictures
Send Comments to: Jim Pruett at jpruett@bigfoot.com